Business
Importance of Boat Trailer Repairs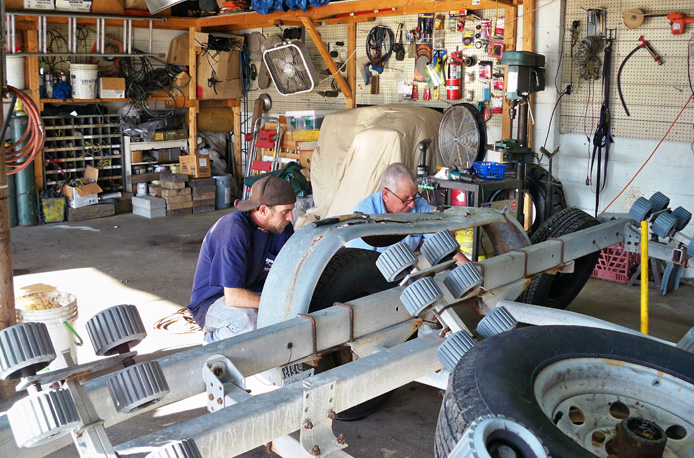 A boat trailer is a kind of vehicle that is specially designed to launch and store boats. They come in a wide variety of sizes and so can accommodate boats of all types. Boat trailers are also essential to store your boat when it's not in use.
But unfortunately, maintenance and boat trailer repairs are often overlooked, but it is important to success and safety on every outing. So, Nautek Marine provides comprehensive boat trailer repair services by the best marine technicians/mechanics.  You can either get your boat trailer repaired by getting it to their service station or you can even connect online and call for further assistance.
Here are some important reasons to go for boat trailer repair:
Safety for your family, your boat, and you
Your boat is a prized possession, but your and your loved ones' safety is an even bigger consideration. Most boaters might think that their trailer can simply hold on, unless until the problem gets worse, or in many instances, they try to fix the issue themselves. But actually, this is a great risk and definitely not worth taking.
So, before your next boat trip, ensure to resolve any current boat trailer issue by taking the services of a reputable and experienced service center like Nautek Marine. It can be something very small, like worn-down brakes or wheels, but getting the problem fixed can prevent you from running into any trouble on road.
Time for family enjoyment
Another best reason to take utmost care of your boat trailer repair at once is to make your loved ones have more fun.
If you are a fisherman or an avid boater, you most likely want to venture out on the water every little chance you get. So, never hold on to your excursions while your favorite boat sits in the garage. Whether you want your boat ready for an upcoming season or have a fall trip approaching soon, getting your boat trailer repairs done can free up your time on the water when you are ready to have a fun time.
No boat owner likes to spend more on a trailer repair. So, one of the best ways to save money is to get it repaired as soon as possible from an experienced service provider like Nautek Marine. If you wait further, the issue can get worse (especially when you still operate the trailer while it requires repair). Small repair tasks can quickly become big-scale projects. So, save yourself money and time by getting in your trailer soon, whenever you notice anything wrong.
Therefore, if your boat trailer needs any repair, get it resolved quickly with the help of a professional team. As your other vehicles need regular service and maintenance, in the same way even your boat trailers must also be looked after religiously.
If you need the best boat trailer repairs, contact Nautek Marine today. It is a one-stop marine service center for all your marine needs, offering shipwright and electrical services, boat and trailer repairs, along with general outboard and inboard engine servicing across all engine brands.